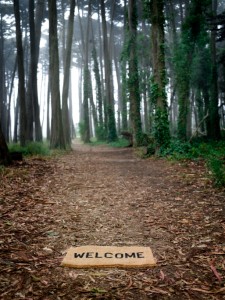 If you are going to build a custom home, make sure you choose a custom piece of real estate as the first step in the process. Local knowledge of perfect building locations is essential, so be sure to work with a qualified real estate broker. It is obviously very important to choose a location that suits you and your lifestyle, but there are some other more subtle factors.
Consider how important it is for you to be close to shopping, entertainment, parks & recreation, work, school, healthcare and places of worship, etc. Spend time driving back and forth from candidate lots to these places to get a sense of what it will be like to live in a particular location, and do so at different times on different days – and also at night.
Consider access to things like public water and sewer systems. Some lots have access to public systems, but many do not. In either event, you need to know the costs of hooking into public systems and the costs and feasibility of building a septic system and/or having a well drilled if public utilities are not available. Don't let the prospect of installing a septic system or drilling a well scare you away from building lot works for you in every other respect. Just be sure to get in touch with an expert in the areas of septic systems and wells before making a final decision. You can always make a contract contingent on checking out the feasibility and cost of these systems.
Choose a lot that is suitable for the size and type of house that you want to build. It is important to avoid "overbuilding" or "underbuilding". Specifically, if the neighborhood that you choose is filled with homes in the 3,000 – 4,000 square foot range, you should probably avoid building a 7,000 square foot house or an 1,500 square foot house in the same neighborhood. The reason is that when you go to sell, and one day you will, you want to get the maximum value from your property. If your house is by far the biggest or smallest in your neighborhood, you will pay the price later in terms of selling price and the amount of time it takes the house to sell.
A local real estate agent can help you make all of these decisions. He or she will be familiar with a variety of different locations, and what is on the market. A good agent will also about lots that may available even though they are not actively on the market. He or she will have local knowledge of public utilities and the costs of building a septic system or drilling a well. If not, they will be able to refer you to the experts in these areas. Finally, your local agent can provide you with market data to help you make a strategic decision about where and what to build from an investment standpoint.
Building a custom home is very rewarding. Remember – the reward is even greater if you take the time and get the right advice to pick the ideal building location for you and your family.