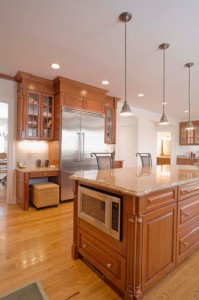 Picking and choosing the right kitchen cabinets is important to the appearance or your space. You need to consider many factors when looking for cabinet options. This includes the budget you have to spend and where the cabinets are purchased. Updating the cabinets in your kitchen is an investment that often takes a lot of the kitchen build budget in your custom home.
Stock Cabinets
This is the easiest way that you can choose cabinets to install in your kitchen. These are cabinets found at home improvement stores and are the cheapest option for your space. Stock cabinets will be a boxed frame that is available off of the shelf by a contractor. Additional options, such as decorative molding, can be bought separately if you want a specific look or appearance. Most of these cabinets are made of glued particleboard that have a variety of finish options.
Semi-Custom Cabinets
There are a type of cabinet that are often made to order. You will need to choose a style and size to suit your specific needs. Most options for these cabinets can be found in catalogs or online. A set of choices are available with various features, such as finish selection. These are not a full custom cabinet and are not limited by a certain lead time for construction. Additional options that you are able to pick for your semi-custom cabinets include hardware, door styles, and interior features. Cabinets can be ordered at a home improvement store or from a cabinet manufacturer. Additional details can be added to match any style or kitchen. The cost of this type of cabinet will be more than stock, but less than custom options.
Custom Cabinets
This is the most expensive option to use if you wan to add new cabinets to your space. They need to be measured and installed by a professional. You have the option to choose the material and exterior finish. The most popular material for custom cabinets is solid wood. The doors and drawers are all made from solid wood, as is the frame. The addition of custom cabinets allows for the best use of space that is available for a kitchen space. Finishes for these cabinets often be a type of varnish or stain. Hardware for the cabinets needs to be chosen based on the style of the room. This means that you can use metal handles or knobs that are porcelain.
Central Texas Designs will let you know what the best option is for your new kitchen in your custom home that will look great and fit in with your budget.